So i am sitting here at midnight on my computer waiting for my sister to get back home before going to bed... So to pass out my boredom i am looking up engagement rings i LOVE. lol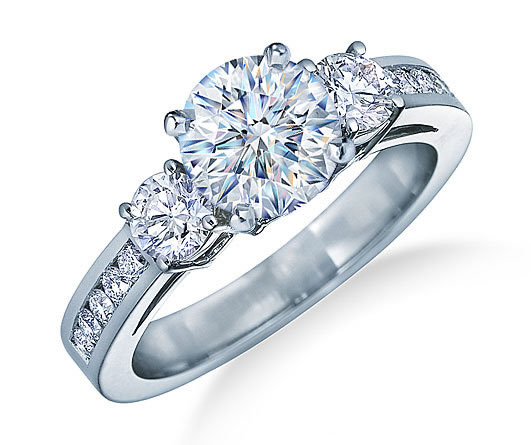 This is a James Allen engagement ring that i LOVE!!! I really like tri stones. :)
I'm not really a big fan of larger stone designs but this one is super pretty! This one is from Secret Diamond.
I really like this wedding band set, it's so freakin gorgeous!! This is Kirk Kara as you can see on the band. :P
I love vintage, so this vintage ring is GORGEOUS!!! I love rings with an intricate design, it makes it more interesting to look at instead of plain diamond in the middle.
This is another vintage ring that i wouldn't like on a modern ring, but for some reason i really like this ring. :)
This is another James Allen i really love!
I normally don't like colored jewels but i am in LOVE with this one!!! I WANT IT!!! lol
I'm not really big into this kind of design on an engagement ring, but this one is really pretty. :)
I love claddagh rings! I am Irish, not a lot but I do have that Irish blood in me. And i absolutely LOVE the claddagh ring, and I have always wanted to own one. This engagement one is gorgeous and i love it!
For my last ring i decided to show one i really liked for a guy. I know guys usually like the plain, nothing fancy band, but this design is really amazing and i love it!
Well that's all I have for tonight. Until next time when i am up this late looking up wedding related stuff.